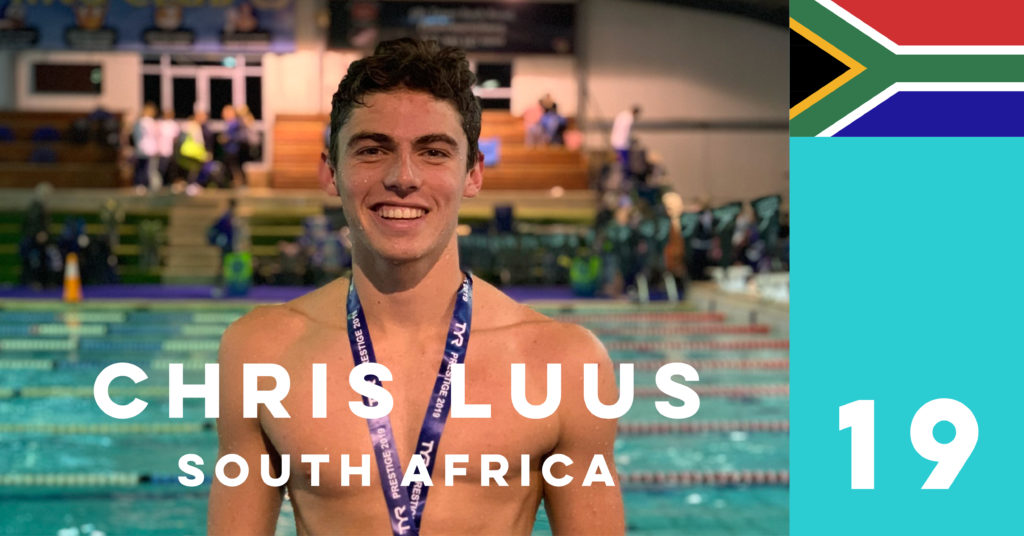 Name: Chris Luus
Origin: South Africa

Date of Birth: 22 Apr 2001

Current Club: Royal Fins Aquatics

Best Stroke: Backstroke/Freestyle/Butterfly

Let's hear what Chris wants to say:
I have been swimming competitively since the age of 6, it might sounds cliche but swimming really is my life. I am a backstroker/butterflyer/freestyler. I am currently ranked 4th in my country for the 50m backstroke open(26.16/LCM) , and it's been a couple years of hard work to get to where I am now. But this is only the start.

I train 11 times a week including a bit of weightlifting, all my sessions don't last more than 90 min. I am working on my mindset seeing as that is the most important asset in our sport, so that I can be mentally tough and overcome all the challenges that are in front of me, so that I can be successful (Olympic Gold).

I aim to become national champion and qualify for the Olympic Games In 2024. I would love all the help I can get to aid me in my pursuit of success!

Words to the rest of the swimmers in the world:
To younger swimmers I'd say keep on training, have fun while doing it. You're time will come, focus on yourself.
To learn more about Chris, follow his instagram: _chrisvis_
If you want to be sponsored and featured on Aqua Seven, simply fill our sponsorship form below: